Our cable development and manufacturing specialists advise you individually to find the optimal solution for your application problem. We accompany you with in-depth advice from brainstorming and sample production to series production of your cable. We see our strength in working together with our customers to find a mutually satisfactory result. The latest production machines and experienced production staff guarantee production at the highest level.
--- Among other things, our machines are used to produce cables for further processing in clean rooms Our machines are state of the art Our employees have an average of 15 years of experience in cable production Our production building covers 1400 sqm of production area BeWo Kabel has a customer base of over 100 customers with whom more than 900 different special cables have been realized BeWo Kabel achieves annual sales of €4.6 million in 2022 Since 2016 production in 2-shift operation Certifications, Quality Management according to ISO 9001:2015 and Environmental Management according to ISO 14001:2015 ---

For us, quality means meeting internal and external requirements.

Quality is the base for customer satisfaction.

We are committed to complying with all existing laws and to using existing resources in a careful and environmentally compatible manner in accordance with the state of the art.

Our objectiv is to avoid mistakes and to improve our environmental behaviour. We achieve this by qualifying and motivating our employees.

Our clear and lean organisation enables us to react flexibly to customer requirements.

We continuously improve our procedures and processes with all employees, taking into account environmental protection and economic efficiency.

We take precautions to keep emissions as low as possible.

We pursue the zero-defect goal.
---
We consider the careful consumption of energy and water, the minimisation of waste and emissions as our most important environmental aspects.
In addition, we integrate parts of our environmental principles into our quality management. In order to conserve resources, we cover 100% of our electricity consumption climate-neutrally from renewable energy sources.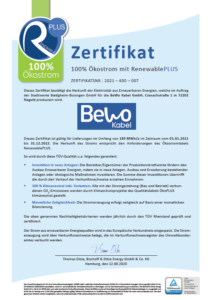 Download 100% green electricity certificate
---
We manufacture cables for use in drinking water that have been tested in Germany in accordance with the KTW-BWGL directive. They comply with EN 12873-1:2014-09 and EN 1420:2016-05 standards, which are recognized as approval for use in drinking water in large parts of Europe.
We also have biocompatible materials approved in various colours according to ISO 10993-1, -5 and -10.
---
We also take responsibility for the smallest and weakest in our society. BeWo therefore supports the costly emergency care for babies in an emergency ambulance.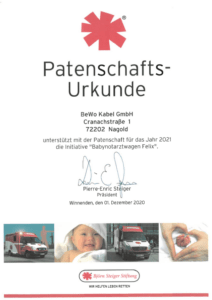 Download Certificate of Sponsorship Baby Emergency Ambulance